Every year I always do a short post to have a quick reflection and thank everyone. Every years achievements always seem to exceed the previous year!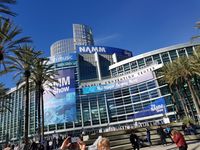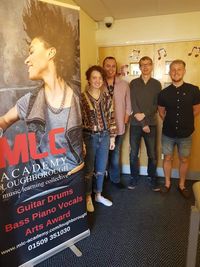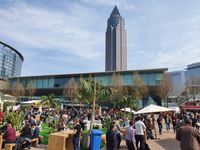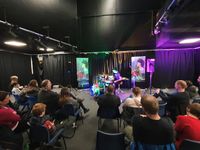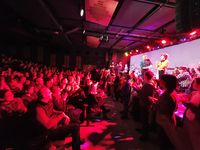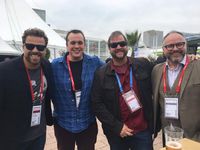 The biggest achievement of 2019 as a teacher has to have been the opening of my own music Academy MLC Academy Loughborough, a franchise of the MLC Group. This was verbally agreed on towards the end of 2018, before signing on the dotted line in May. From then on it was all go, finding the premises, setting up the business, recruiting teachers, advertising. We had a successful launch event on 21st September, and we have been offering lessons from the very following weekend. During our short time, we have held our first successful drum clinic, featuring Rob Hirons from MLC Marseille, and we even had students performing to some 400 people at the MLC Christmas concert at Metronome. Very proud of this and what we have achieved so far to say the least, we have a great little team at Loughborough! The support from Paul, Laura and Steve at MLC Group and Jono at East Leake Academy in getting this off the ground has been incredible, as well as my family and friends in helping getting it all started and putting up with late nights!
My teaching at MLC Nottingham has almost reached capacity, and teaching at Confetti Institute Of Creative technologies with both the H.E Music technology and Music performance students has been a regular feature of the year that I thoroughly enjoy. All of the students that I taught this year have been great to work with, and have worked really hard.
I also achieved my ATCL, Associate of Trinity College London teaching diploma. This course helped me to think more differently as a teacher, providing a more complete learning experience. It really is worth the time and effort doing this course. Thank you to Paul Hose for the help and support in getting me through this qualification.
As well as America in January, I also got to travel to Frankfurt for the Musikmesse in April for the launch of Paul's book, Drumset for Beginners: Latin. This was much more publishing and education focused event, but a great little trip nonetheless.
Alongside all this, I have been writing an online course, An Introduction to Music Production, which is currently being used by students in Italy and it will be rolled out in the U.K next year.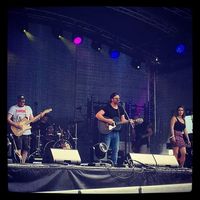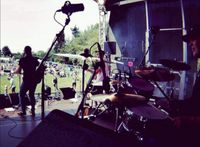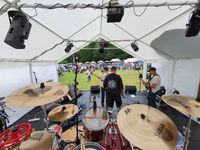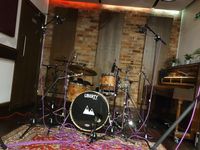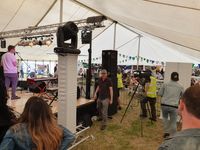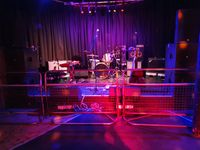 As a drummer and performer, it has also been a great year. On the back of his debut album last year, we had a great run of Summer festival shows with JR Harbidge. These included Cornbury Festival, Cropredy, Warwick Folk Festival, A5 Live, Staffsfest and Swanbourne, supporting The Zutons. It has been great travelling around, playing a variety of indoor and outdoor shows, each one uniquely different. 
In November, I also tracked the Drums for the second album, and I am really looking forward to hearing the final product next year. 
Playing with Rutland based covers band Freudian Slippers has been great fun this year, offering a unique set of covers by bands such as Squeeze, XTC, Tears for fears, They Might Be Giants, The Divine Comedy, to name a few. Always a fun gig to play with some very talented musicians, and the songs always go down a treat.
Venn Goodwin is another singer/songwriter I have been doing some work with this year, and we had a great gig in Sheffield back in June, as well as a fun but sodden gig at the Green place in Sileby with Christopher Moody in June also.
Please do check out all these talented people I work with.
It really has been an amazing year, and I do not take any of it for granted. It can be a tough industry to work in at times, but equally, the reward and job satisfaction makes it more than worth it without a doubt.
None of what I have achieved would have been possible without a fantastic network of people around me. My family have been super supportive, for which which I am truly grateful, as have my friends, peers, Paul, Laura, Steve, Simon, Lucy and the team at MLC group, none of this would have been possible without any of them and the help they offered, so THANK YOU!!
2020 looks set to be even busier, with a course release, album release, growing MLC Loughborough, as well as a few other projects that will be made known throughout the year. Alongside this, I will continue to invest in myself, allowing me to be the best I can be at what I do . I cannot wait for the challenge, however, for now, I am going to be taking a fortnight off!
Have a great Christmas and New Year, see you on the other side!
Mark.